NOTE:
The Louisa County Historical Society has their own website at: http://www.louisacountyhistoricalsociety.org/

To send email to the Louisa County Historical Society -- Click Here: info@louisacountyhistoricalsociety.org
The Society is offering the photographic history of " Louisa and Louisa County" by Pattie Cooke for sale at the special price of $10 plus shipping and handling. Only a few copies are still available at this price.
The new book, "Abstracts of Louisa County, Virginia Will Books 1743-1801", by Nancy Chappelear Baird and Kate Hatch, is available for purchase from The Society for the sum of $22.00 (+s/h).

---
Louisa County Historical Society
Chartered in 1966, the purpose of the Louisa County Historical Society is to promote the preservation of historical records, collect existing materials, writings and artifacts of life in Louisa County and to make these collections available to the public. Two magazines are published each year - Spring and Fall; Newsletters are published occasionally, usually Summer and Winter. Newsletters are published quarterly, spring, summer, fall and winter.
The Historical Society works closely with the Louisa County Library, which is considered the research center. The Library contains a majority of the Society's Museum Collection of books. As the Library is open every day, except Sunday, in a sense the Museum is open every day for most of the year.
To join, please visit: http://www.louisacountyhistoricalsociety.org/join.htm
Anyone with access to old family records, Bibles, letters, diaries, etc. with information on Louisa County citizens and happenings -please share with the Society. Please write to the Secretary of the Society to arrange to have copies made for our files or send copies to the Secretary.
---
Louisa County Historical Society Museum

The Museum, located in the old jail building beside the Louisa County Courthouse, is open on Friday and Saturday, 10:00 AM until 2:00 PM April through October. The Museum, to view exhibits, is also open by appointment. The archives and information the museum holds is a different matter from a tour of the exhibits. The Louisa County library and temporary courthouse (original being renovated) have a great deal of information and are still the best places to start your research.
History of the Jail
The building now used as the museum of the Louisa County Historical Society was the jail for Louisa County until 1967. At that time the jail was classified as one of the four worst jails in Virginia by the Department of Welfare and Institutions of Virginia.

The Louisa County Historical Society rents the jail from the County for use as a museum for one dollar a year.

The Jail/Museum was built in 1868 using bricks and iron from a prior jail built in 1808 and located across Main Street. The interior of the present building was destroyed in 1881 when an escaping prisoner set it on fire. Repair work was done that same year. The iron and gratings were purchased from Tredegar Iron works in Richmond, Virginia.
In 1937, all the woodwork was removed and the cement floors and ceiling were installed under the WPA program. Wrought iron was imbedded in the upstairs walls and steel partitions created four cells out of two. A jail built to accommodate eight prisoners sometimes had to house as many as seventeen.

Recently a new heating and cooling system has been installed for the protection of the archives and artifacts in the museum by the Historical Society.
First Floor
Entrance - Bicentennial Wardrobe, Indian artifacts, Haley Wardrobe and Fox portrait.
UDC Room
Room to the right contains displays by the Mineral Chapter of the United Daughters of the Confederacy.
Upstairs
DAR Room - Room on the front right of the building contains displays by the Louisa Courthouse chapter of the Daughters of the American Revolution.
Library of the Louisa County Historical Society - Part of this collection is housed at the Louisa County Library for the convenience of visitors.
Archival Room - Room remains locked, material may be viewed by appointment.

---
The present Louisa County Courthouse was erected in 1905. It is the fourth courthouse built by the County. Louisa County was created in 1742 from part of Hanover County. The County was named for Princess Louisa, the daughter of King George II and Queen Caroline of England.
The Courthouse Square upon which the Courthouse and jail are located was chosen in 1757 when it was the personal property of Thomas Johnson. A 1775 survey of a two-acre courthouse tract exists showing the tract to be within the property of Major Thomas Johnson.
Also, located on the Courthouse Square is the Confederate Monument dedicated the same time as the 1905 Courthouse. The artist was W. L. Shepherd of Richmond. The monument was arranged and paid for through the efforts of the Daughters of the Confederacy.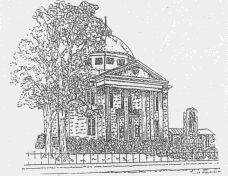 ---
Available for Purchase From The Louisa County Historical Society
PUBLICATIONS
1. The Family of John Massie, 1743 - 1830, Kelsey and Kelsey, 241 pages, indexed, soft cover, Price $25.00. (+s/h)
2. Louisa County Historical Magazines, Vols. 1:1 - 38:2 (2 issues per volume) (exception: Vol. 18 and 36 - only one issue) are available for $10.00 (+s/h) per single volume issue (spring and fall)
Commemorative Issues:
Vol. 21:1 Mineral Centennial (Spring 1990) (144 pgs) $15.00 (+s/h)
Vol. 35:1 Battle of Trevilian Station (Spring 2004) (168 pgs) $20.00 (+s/h)
3. Louisa County Public Service Claims, by Claudia A. Chisholm, paper back, Price $6.00 (+s/h)
4. Louisa County Marriages 1815-1861, by Kiblinger and Abercrombie, hardcover, indexed 188 pages. Price $18.50 (+s/h)
5. The Education of Col. David Bullock Harris, CSA, by Dr. Charles W. Turner, hardback, Price $10.00 (+s/h)


MAPS OF LOUISA COUNTY VIRGINIA
1. 1804 D. Yancey map of Louisa County drawn from 1764 map by John Hawkins. Price $6.00 (+s/h)
2. 1863 Corps of Engineers, CSA, Map of rivers, creeks, landmarks and many landowners indicated. Black and white, suitable for framing. Price $8.00 (+s/h)
3. 1864 Map of the first and second days of the Battle of Trevilians, suitable for framing. Price for set $6.00 (+s/h)
4. 1871 Map of Township Lines, Churches, Mills. Price $6.00 (+s/h)
5. 1800 (Circa) Map of Rivers and Creeks (with appendix) by Ransome B. True. Price $12.00 (+s/h)
6. 1880 (Abt.) Map of Mills and Schools. Price $8.00 (+s/h)
7. 1932 VDOT Map of State & County Roads in Louisa County Price $4.00 (+s/h)

MAPS OF VIRGINIA
1. 1852 Map of The Virginia Central Railroad showing the connection between tide water Virginia, and the Ohio River at Big Sandy, Guyandotte and Point Pleasant made by W. Vaisz. Map legend indicates Counties bordering on the Central R.R. with their population of "Free" and "Slaves". Price $6.00. (+s/h)
2. 1751 Map of inhabited part of Virginia containing the whole Province of Maryland with part of Pennsylvania (sic), New Jersey and North Carolina. Drawn by Joshua Fry and Peter Jefferson. Price $8.00 (+s/h)
The above articles can be ordered from:
Louisa County Historical Society
P. O. Box 1172
Louisa, Virginia 23093.
NOTE: WHEN PLACING YOUR ORDER, PLEASE INCLUDE $5.00 FOR SHIPPING AND HANDLING. THIS CHARGE "IS PER ORDER" NOT "PER ITEM"
The following are NOT AVAILABLE
Folk Housing in Middle Virginia by Henry Glassie
Land Transactions in Louisa County 1765-1812 by Ransome True at UVA
A History of Louisa County Virginia by Malcom H. Harris
Out of Print and Not AVAILABLE
Old Home Places of Louisa County, by Chisholm and Lillie
250th Anniversary, Louisa County - by 250th Anniversary Committee
---
Combined Index to Louisa County Historical Society Magazines Volumes 1-30
There are individual pages for each surname that you can browse through.
Surnames: 1-9 A B C D E F G H I J K L M N O P Q R S T U V W X Y Z

---
Ordering Information for Prior Publications
Before ordering copies of any prior publications, there are a few things you must know. First, if you are ordering a publication based upon information you saw in the online index, you will need to determine the proper Magazine. For example, if the index entry was "Dunn, Wayne V13:27, 63; V20:12" this translates into:
Volume 13, page 27 and page 63
Volume 20, page 12
Since two magazines were published in most years, and USUALLY the page numbers ran consecutively, you should check where the page break occurs in the magazines (see Table Of Contents). In my example, Volume 13, page 27 is in the first magazine in 1981 and page 63 is in the second magazine in 1981.
Louisa County Historical Society magazines may be purchased at $10.00 per volume issue (either numbered 1 or number 2; but not both) (plus shipping/handling).

Commemorative editions - Mineral Centennial (Spring 1990, Vol. 21 No. 1) purchase price $15.00 (+s/h) and Battle of Trevilian Station (Spring 2004, Vol. 35 No. 1) purchase price $20.00 (+s/h).
Please order your requirements from: Louisa County Historical Society, P.O. Box 1172, Louisa, VA 23093 and include a check or money order for the total amount.
---
View Table Of Contents
Click on one of the following to view the contents of each magazine.
Volume 1, Number 1, June, 1969 (Pages 1 to 36)
Volume 1, Number 2, December, 1969 (Pages 39 to 91)
Volume 2, Number 1, June, 1970 (Pages 3 to48)
Volume 2, Number 2, December 1970 (Pages 3 to 52)
Volume 3, Number 1, June 1971 (Pages 3 to 52)
Volume 3, Number 2, December 1971 (Pages 55 to 91)
Volume 4, Number 1, June 1972 (Pages 3 to 52)
Volume 4, Number 2, December 1972 (Pages 54 to 100)
Volume 5, Number 1, Summer 1973 (Pages 3 to 52)
Volume 5, Number 2, Winter 1973-74 (Pages 3 to 48)
Volume 6, Number 1, Summer 1974 (Pages 3 to 48)
Volume 6, Number 2, Winter 1974-75 (Pages 51 to 92)
Volume 7, Number 1, Summer 1975 (Pages 3 to 48)
Volume 7, Number 2, Winter 1975 (Pages 50 to 91)
Volume 8, Number 1, Summer 1976 (Pages 2 to 47)
Volume 8, Number 2, Winter 1976 --(Pages 50? to 100?)
Volume 9, Number 1, Summer 1977 (Pages 3 to 47)
Volume 9, Number 2, Winter 1977-1978 (Pages 54 to 93)
Volume 10, Number 1, Summer 1978 (Pages 2 to 44)
Volume 10, Number 2, Winter 1978-1979 (Pages 55 to 96)

Volume 11, Number 1, Summer 1979 (Pages 3 to 47)
Volume 11, Number 2, Winter 1979 (Pages 2 to 48)
Volume 12, Number 1, Summer 1980 (Pages 2 to 46)
Volume 12, Number 2, Winter 1980-81 (Pages 51 to 89)
Volume 13, Number 1 Summer 1981 (Pages 1 to 48)
Volume 13, Number 2 Winter 1981-1982 (Pages 51 to 99)
Volume 14, Number 1 Summer 1982 (Pages 1 to 48)
Volume 14, Number 2 Winter 1982-1983 (Pages 49 to 99)
Volume 15, Number 1 Summer 1983 (Pages 1 to 48)
Volume 15, Number 2 Winter 1983-1984 (Pages 49 to 96)
Volume 16, Number 1 Summer 1984 (Pages 1 to 56)
Volume 16, Number 2 Winter 1984-1985 (Pages 57 to 102)
Volume 17, Number 1 Summer 1985 (Pages 1 to 56)
Volume 17, Number 2 Spring 1986 (Winter 1985-1986) (Pages 45 to 96)
Volume 18, Spring 1987 (Pages 1 to 48)
Volume 19, Number 1 Spring 1988 (Pages 1 to 52)
Volume 19, Number 2 Fall 1988 (Pages 53 to 116)
Volume 20, Number 1 Spring 1989 (Pages 1 to 58)
Volume 20, Number 2 Fall 1989 (Pages 59 to 117)

Volume 21, Number 1 Spring 1990 (Pages 1 to 144)
Volume 21, Number 2 Winter 1990 (Pages 1 to 51)
Volume 22, Number 1 Spring 1991 (Pages 1 to 52)
Volume 22, Number 2 Winter 1991 (Pages 54 to 113)
Volume 23, Number 1 Spring 1992 (Pages 1 to 76)
Volume 23, Number 2 Fall 1992 (Pages 77 to 134)
Volume 24, Number 1 Spring 1993 (Pages 1 to 54)
Volume 24, Number 2 Winter 1993 (Pages 55 to 109)
Volume 25, Number 1 Spring 1994 (Pages 1 to 54)
Volume 25, Number 2 Winter 1994 (Pages 55 to 120)
Volume 26, Number 1 Spring 1995 (Pages 1 to 56)
Volume 26, Number 2 Fall 1995 (Pages 59 to 116)
Volume 27, Number 1 Spring 1996 (Pages 1 to 54)
Volume 27, Number 2 Fall 1996 (Pages 55 to 114)
Volume 28, Number 1 Spring 1997 (Pages 1 to 54)
Volume 28, Number 2 Fall 1997 (Pages 55 to 116)
Volume 29, Number 1 Spring 1998 (Pages 1 to 59)
Volume 29, Number 2 Fall 1998 (Pages 60 to 116)
Volume 30, Number 1 Spring 1999 (Pages 1 to 55)
Volume 30, Number 2 Fall 1999 (Pages 56 to 96)

Volume 31, Number 1 Spring 2000 (Pages 1 to 59)
Volume 31, Number 2 Fall 2000 (Pages 60 to 116)
Volume 32, Number 1 Spring 2001 (Pages 1 to 56)
Volume 32, Number 2 Fall 2001 (Pages 59 to 112)
Volume 33, Number 1 Spring 2002 (Pages 1 to 42)
Volume 33, Number 1 Spring 2002 (Pages 1 to 42)
Volume 34, Number 1 Spring 2003 (Pages 1 to 38)
Volume 34, Number 2 Fall 2003 (Pages 45 to 66)
Volume 35, Number 1 Spring 2004 (Pages 1 to 166)
Volume 35, Number 2 Fall 2004 (Pages 167 to 207)
Volume 36, Number 1 Spring 2005 (Pages 1 to 86)
Volume 37, Number 1 Spring 2006 (Pages 37 to 50)
Volume 37, Number 2 Fall 2006 (Pages 51 to 108)
Volume 38, Number 1 Spring 2007 (Pages 1 to 56)
Volume 38, Number 2 Fall 2007 (Pages 57 to 136)
Volume 39, Number 1 Spring 2008 (Pages 1 to 56)
Volume 39, Number 2 Fall 2008 (Pages 57 to 136)
Volume 40, Number 1 Spring 2009 (Pages 1 to 56)
Volume 40, Number 2 Fall 2009 (Pages 57 to 136)

Volume 41, Number 1, Spring 2010 (Pages 1 to 60)
Volume 41, Number 2, Fall 2010 (Pages 63 to 120)
Volume 42, Number 1, Spring 2011 (Pages 1 to 65)
Volume 42, Number 2, Fall 2011 (Pages 66 to 140)
Volume 43, Number 1, Spring 2012 (Pages 1 to 58)
Volume 43, Number 2, Fall 2012 (Pages 60 to 123)
Volume 44, Number 1, Spring 2013 (Pages 1 to 71)
Volume 44, Number 2, Fall 2013 (Pages 73 to 170)
Volume 45, Number 1, Spring 2014 (Pages 1 to 103)
Volume 45, Number 2, Fall 2014 (Pages 106 to 168)
Volume 46, Number 1, Spring 2015 (Pages 1 to 79)
Volume 46, Number 2, Fall 2015 (Pages 75 to 143)



Back to Top
---